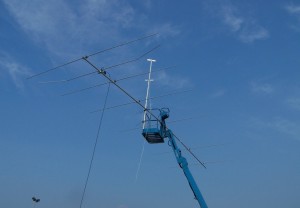 For: DXing 11 meter band
Antenna Type:    7 elements V-Yagi
Bend Radiator (K6STI)
Designed by:    HPSD version 1.01 feb 2014
Boom length:     12,95 Meter
Gain:12,,3 dBI  (@27,555 MHz, Peak gain: 12,35 dBI @ 28MHz)
FB            <32 dB
FR            <18 dB
Impedance: 50 ohms, direct fed
SWR 1:1 350 KHz.
SWR below 2:1    > 1500 KHz
The 7el V-yagi
Above: The freespace azimuth plot. (including aluminium loss).
Above: The freespace elevation plot ! TIGTH.
.Some manufacturers would say "low noise urban antenne
Above: the freespace azimuth plots at different freq.
Above: The "real" elevation plot. Using average ground conditions and when placed 20 meter above ground.
The 2:1 SWR bandwidth : 1500 KHz
SWR plot between 27,4 MHz and 27,8 MHz
All elements are made out of: 25mm and 22mm tubing.
25mm is the center part of each element and is 1,967 meters long. Inserted on both ends are the remaining 22mm tubing.
All dimensions are provided in Meters.
Questions ? Please use the forum.
Not for commercial use.